Examples of Past Classes
&

Workshops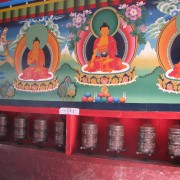 July 22nd – August 28th
6 week course: Tues/Th 5:30-7:00 pm
6 classes $60, 12 classes $108, $12 drop-in
please pre-register
Brenda Flemming 808.283.2968
Certified Instruction in the Tradition of BKS IYENGAR
Email: brenda@brendaflemming.com go to www.brendaflemming.com to learn more…
Brenda Flemming has moved here from Colorado as an established Iyengar teacher. Her transition into the Hawaiian Life Style is a wonderful, refreshing experience.
She comes to Hilo with an open heart, honored to share this most respected knowledge. Brenda has studied with many Senior Iyengar teachers over the past 30 years, she gives her respects and appreciation for the lineage and knowledge. The brilliance and authenticity of her main teachers; Manuoso Manos of San Francisco Gabriella Guibilaro of Florence, Italy along with her travels to India with the Iyengar Family, have profoundly touched her soul and infused her teachings.
Description of Course:
Through this course of study we will deepen our understanding of the Yoga Lifestyle of Cultivated Human-ness and Eco-minded Consciousness while developing and supporting Super Hero qualities.
Strengthening our spines, working towards a balanced body and base foundation encourages the untangling of our nervous systems. These benefits are reflected in emotional health, open-mindedness and heightened energy levels, allowing true Aloha Spirit to be plentiful in our lives.
Brenda's daughters Rita (28) and Mary (24) have been raised in Yoga Life-style, they both are trained in the Iyengar Tradition. They will join classes and assist when their schedules allow. Our goal is to teach and encourage the simplistic knowledge of moving our joints with balanced actions; thus enabling a life time of use with less wear and tear.
Removing the aches and pains from ones body can be a slow process de-pending on the amount of accumulated acids in the cells. Bringing in vibrant, sattvic, living foods can assist in a more alkaline chemistry, allowing our bodies to return to a balanced state of less tightness, stiffness and pain.
"It is our birth right to develop a strong spine and experience flexibility balanced with strength."
We are here to assist you in incorporating what you learn into a simple home practice, that you love and enjoy; developing habits for the best version of your authentic self. When stepping into this course we inspire you to bring the 8 fold path of Patanjali Yoga into your daily life.
Brenda has made a point of studying other traditions of Yoga and welcomes all levels of students into an Iyengar class. She is available for workshops or privates, for those who prefer to work individually.
About Brenda:
Brenda started the yoga program and taught Iyengar Yoga at Western State Colorado University for twenty years. Her students have tremendously bene-fited from her teachings on a Compassionate Lifestyle and the simplicity of incorporating the yogic path into their lives.
Brenda is a former studio owner, guest teacher, and travels for workshops. She very much adores teaching children from ages 4-18. Much of her service work revolves around working with troubled teens and charter schools; teaching classes for creating alternatives to drug and alcohol use. From pre-wedding yogafication to numerous health clubs, she can meet special needs of all kine. Every past and future interaction is a gift!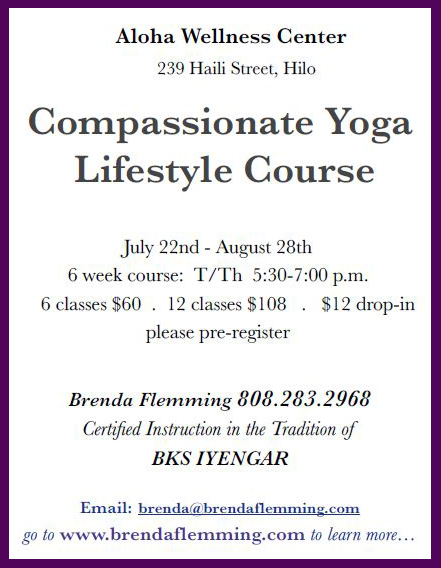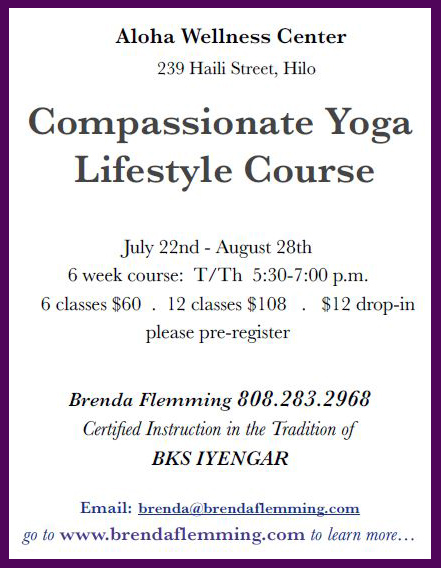 http://www.hawaiinaturopathicretreat.com/wp-content/uploads/2014/05/Buddha-Prayer-Wheels1.jpg
2112
2816
Nicolette Marais
https://www.hawaiinaturopathicretreat.com/wp-content/uploads/2013/04/logo11.png
Nicolette Marais
2014-07-11 02:14:55
2014-10-07 17:45:59
Compassionate Yoga Lifestyle Course
Host your event, workshop, seminar or class (including body movement classes) at our center.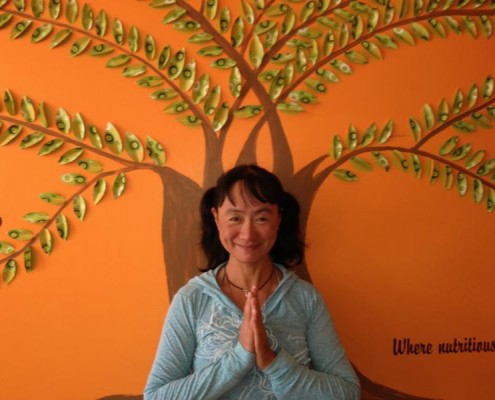 http://www.hawaiinaturopathicretreat.com/wp-content/uploads/2015/01/shanhong-lu-hilo.jpg
600
800
Nicolette Marais
https://www.hawaiinaturopathicretreat.com/wp-content/uploads/2013/04/logo11.png
Nicolette Marais
2015-01-20 12:27:46
2015-01-20 12:59:21
Presentation By Dr. Shanhong Lu MD, PhD Fri, Jan 23rd, Hilo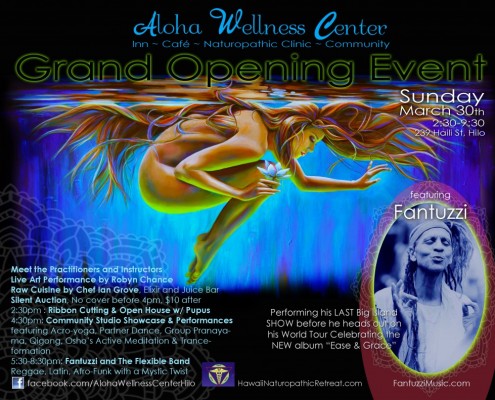 http://www.hawaiinaturopathicretreat.com/wp-content/uploads/2014/06/HNRGrandOpeningFlyerFullPage-1024x7911.jpg
791
1024
Nicolette Marais
https://www.hawaiinaturopathicretreat.com/wp-content/uploads/2013/04/logo11.png
Nicolette Marais
2014-03-17 18:01:39
2014-10-07 17:46:00
Don't Miss the Most Exhilarating Event of 2014