Bowen Technique now available in Hilo, Hawaii with Dr. Julie Brush
What is The Bowen Technique?
The Bowen Technique also known as Bowen Therapy is a dynamic system of muscle and connective tissue therapy.  It balances the body to allow it to heal itself.  Gentle and non-invasive, it is excellent for acute and chronic muscle pain and injury.  In addition, it can be helpful to regain whole-body balance and healing for many conditions and to help maintain good health.
What is involved in a Bowen treatment?
Your naturopathic physician will have you lie on a massage table for the treatment; removal of clothing is not necessary.  The Bowen technique uses gentle hand movements over specific sites of the body that correlate to the health concerns of the patient.  An entire body treatment can be completed within 30 minutes or less.
From where does The Bowen Technique originate?
Tom Bowen of Australia developed Bowen after World War II, when he became interested in ways of alleviating human suffering.  He noticed that when he made certain moves on a body, it had particular effects.  He developed the system as it is today and eventually opened a full-time clinic where he saw over 13,000 patients a year.
How does Bowen Therapy actually work?
One possible theory of the underlying mechanism of The Bowen Technique is the resonance model demonstrated by stringed instruments.  A string held and played at a particular point will establish a resonance that creates a distinctive tone.  Changing the point where the string is held creates a vibrational pattern that correlates with a specific frequency.  In turn, the body may be compared to an intricate musical instrument that requires adequate tuning for correct function.  Bowen sets up vibrational patterns that correspond to particular areas of the body.  The body then attempts to alter its vibration to match these ideal vibrational patterns and in so doing, brings itself into harmony.
How often do I need Bowen Therapy?
For acute and chronic problems, four treatments one week apart is a common initial treatment.  After two weeks break, your physician will determine with you whether an additional four weeks of treatment is needed.  This is often enough to address the problem, although periodic follow-up treatments may be helpful for some chronic conditions.
What happens after I receive The Bowen Technique treatment?
In the first 24 hours after your treatment it is important to do the following:
Drink plenty of water, more than usual
If you are sitting for long periods of time, get at least once every 30 minutes to walk around the room
Get a good night's sleep
Your physician may suggest daily exercises following your treatment
Avoid other body work for one week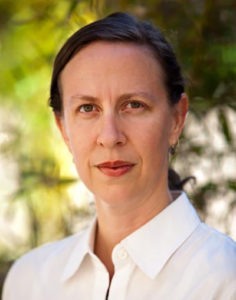 Born and raised in Nebraska, Julie Brush grew up eating farm-fresh produce and bicycling in the flat countryside. Her mother's interest in natural foods and alternative healing planted the seed for her future career choice. She attended Creighton University in Omaha, where she studied biology in a pre-med program. She then served two years in AmeriCorps, working in wildlife conservation in Northern California. Her work took her to New Hampshire, then Arizona where she found herself managing a natural foods coop. Here, her desire to help people was rekindled and she headed back to school to study natural medicine. Her love of the Northwest made her decision to move to Portland an easy one.
Dr. Julie Brush is a graduate of National University of Naturopathic Medicine, in Portland, Oregon. She was the recipient of the Helfgott Research Institute Student Research Scholarship in 2005 for her work studying the immune-stimulating properties of herbs. For the past 12 years, she has been practicing at 2BWell clinics in Lake Oswego and Portland as a family physician. She has completed additional training with Dr. Ben Lynch on the subject of MTHFR genetic mutations and impact on health, and with Dr. Dick Thom on UNDA drainage. She is an active member of the Oregon Association of Naturopathic Physicians.
As a NUNM graduate, Julie has completed extensive medical training in both primary care and naturopathic medicine. She practices under a new paradigm of health care. In this paradigm, you, the patient, are listened to, you are given the tools to achieve optimum health and you are an active participant in your health care. This is an individualized approach that honors your unique history. The naturopathic approach seeks to identify and treat the cause of disease, which both treats acute issues and prevents future health problems. She is available to treat patients of all ages for acute and chronic conditions.