Today, exercise is a very necessary antidote to our sedentary lifestyles. Most people are too dependent on cars for door to door transportation. In addition many of us spend long hours in front of computers and need to make a conscious effort at moving our bodies as our modern lifestyles simply are not designed to do so.
To integrate exercise into one's lifestyle, we recommend using a bicycle instead of a car for short distances and walking instead of driving when possible. In addition to introducing a more active lifestyle, we recommend some planned exercise daily.
At Hawaii Naturopathic Retreat Center we usually prescribe gentle walking a couple of times a day, or power walking for those who are interested in a more rigorous workout. In addition we prescribe rebounding daily as this supports the detoxification process by stimulating lymph circulation. Yoga is offered twice a week and more one-on-one yoga session may be requested. Personal training and Stott Reformer Pilates sessions are available. We also provide access to limited gym equipment for self-guided exercise.
Opportunities for self-guided exercise are almost limitless. Kapoho Sanctuary has great swimming spots for lap swimming in the ocean or just casual swimming for less serious swimmers. Aloha Wellness Inn in Hilo has the tranquil Hilo bay that is the perfect place for stand-up paddling and kayaking. In addition cycling to some of the Hilo beaches for a swim will provide a great work-out. For surfers great surfing opportunities are available near Kapoho and Hilo. Bicycle rentals are available to explore the island beauty while getting some exercise.
We adapt exercise recommendations for our programs to each individual's fitness and physical needs. Exercise tolerance must be built up slowly as people feel better and recover from inactivity.
The Benefits of Exercise
There are multiple benefits to exercise:
it strengthens the immune system
it helps to elevate moods
it fights depression
it combats diabetes, high blood pressure and heart disease
it is an antidote to addiction
it promotes bone density
it controls weight
it boosts energy levels
it creates better sleep
exercise improve your sex life
exercise will keep your body fit and your mind happy!
At Hawaii Naturopathic Retreat Center we have several organized and self-guided exercise opportunities available.
Organized Exercise
(COMING BACK SOON! Currently offering TRX Suspension Training and Yogalates) Pilates is a series o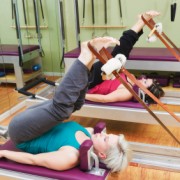 f low-impact flexibility and muscular-endurance exercises. It incorporates the use of special apparatus and equipment into movement routines designed to enhance flexibility, strength and coordination.     Pilates reformer exercises stretch and strengthen the entire body with an intelligent, therapeutic approach to effective exercise. We offer Stott Pilates Methodology which incorporates modern exercise principles and applies proven and accepted practices in biomechanics, rehabilitation and athletic performance. It restores the natural curves of the spine and rebalances the muscles around the joints.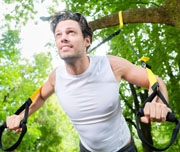 TRX Suspension Training is a form of resistance training. TRX Suspension Training is a total body workout! The field of suspension training is a form of resistance training that includes bodyweight exercises. Bodyweight exercise develops strength, balance, flexibility and core stability simultaneously. TRX Suspension Training, is a highly portable performance training tool that uses gravity and the user's body weight to complete hundreds of exercises.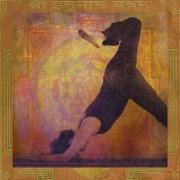 Yoga promotes the free flow of the prana/"life force" throughout the body. If the prana is flowing freely, the body will be able to heal itself from disease and prevent future illness. Yoga postures are designed to tone, strengthen and align the body. These postures are performed to make the spine supple and healthy and to promote blood flow to all the organs, glands and tissues. Yoga is learning to come back to yourself; it is finding your limits, expanding your boundaries, and being able to truly relax into who you are. Yoga means to unite, to connect, to center one's thought and to concentrate on one's self.
Personal Training
You may choose to work with a personal trainer for your own personal physical reconditioning program which the trainer will individually tailor in order to meet you where you are at and to achieve your fitness goals. There are several benefits to working with a personal trainer: the trainer can motivate you and help keep you focused on your fitness goals, they can also help you to develop a realistic fitness goals and provide you with consistent support.
Self-guided Exercise Opportunities
Cycling / Biking
There are numerous biking opportunities around Kapoho as well as Hilo. Cycling to a refreshing swim in the ocean or champagne pond is a great way to combine exercise with another activity. Explore the breathtaking Red Road or Papaya Farms Road or the Hamakua Coast scenic roads and Hilo Beaches by bike.
Hiking
Hiking in the beautiful surroundings of Kapoho or Hilo town will give you an easy and very pleasurable experience and opportunity to get moving while exploring either Kapoho area or the picturesque and quaint town of Hilo.
The experience of hiking down the mango grove in Wa-Wa land where tall ancient trees form the most beautiful tree tunnel is unforgettable. Walking amongst these trees goes a very long way in renewing and reviving the spirit. The more daring hiker can find the way through the ferry trees to the natural lava swimming pool.
Green lake is another interesting hike in Kapoho area. Green Lake is a 400-year old, freshwater-filled crater several hundred feet deep. Climbing green mountain gives a beautiful view of the coast.
Hilo town provides several opportunities for hiking. From Aloha Wellness Inn several parks are accessible. A hike to the Rainbow Falls in the morning when the sun is behind you will give you the visible rainbow in the falls. A mile further up the road is Boiling Pots. From the Boiling Pots there is another waterfall Pe'epe'e Falls to hike to.The waterfall and deep pool is a perfect place to be alone for contemplation in nature.
Hiking up the lava road along the ocean in Kapoho
Hiking amongst the ancient trees combines exercise with being revived by the spirit of nature
Jogging / Running
Ample opportunities for running or jogging both in Hilo and Kapoho. Enjoy the fresh ocean air and run without inhaling car exhaust fumes. Variate your route every day while enjoying nature during your work out.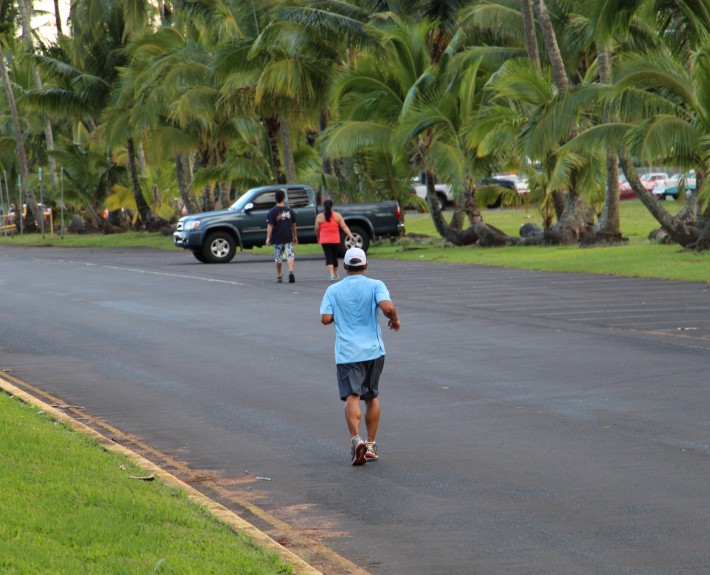 Kayaking
Kayak rentals are available in Hilo. Reed's Bay in Hilo is especially suited for a beautiful kayak trip any time of the day. Kayak Rentals available from Sun and Sea Hawaii on the bay front road. Half day (4 hrs) rentals (single $49, double $69 or triple $79).
Power Walking
Power walking involves walking much faster or at the upper end of the natural range for walking speed. When you power walk, you walk almost as fast as a light jog. Power walking is a great starting point to achieving your weight loss and fitness goals. Power walking is simple and enjoyable. You can do it almost anywhere and all you need is good walking shoes. When you do power walking right you can burn fat very efficiently. It also provides a great workout for the lower body.
For optimum calorie burning, try to walk at a pace of 4.5-miles per hour. It will be hard to start out at a pace of 4.5 mph and individuals will have to spend two or three weeks working up to this pace. The brisker the pace the more calories will be burnt.
If an individual's health allows it we recommend daily power walks while following our programs. Depending on the individual 30-45 minute power walks are ideal on a daily basis. When at home and in a regular routine, aim for 4-6 power walks a week.
In order to be successful at power walking, try to keep the following in mind:
Do not take longer strides to walk faster, instead focus on landing on your heels, rolling through your instep, and then propelling yourself with a push off your toes.
Hold your head up and look about ten feet ahead.
Bend your elbows 90 degrees, close your hands in relaxed fists and swing them in an arc from your waist to your chest while keeping your elbows close to our body.
By engaging your arms while walking you'll walk faster, burn more calories and build upper-body strength
Engage your core to support your spine and tone your tummy
Activate your glute muscles while you walk by tightening and contracting your glute muscles as you walk
Vary your speed by intervals of different walking speeds
Rebounding
We encourage patients to take time once or twice a day to rebound on the mini-trampolines we have available. This is very important and patients who take this seriously will certainly reap the extra benefits from activating and moving the lymph system. The lymph system is responsible for carrying nutrients to cells and for transporting waste products away from cells. Lymph is however completely dependent on physical exercise to move. When we are sedentary and not moving enough, cells are left to soak in their own waste products. Especially during detoxification when toxins are dumped should we be focusing on getting the lymph moving. Rebounding (jumping on a therapeutic mini-trampoline) can increase lymph flow by 15 to 30 times. For this reason we recommend patients rebound 20 minutes at least once daily.
Rebounding daily will greatly support the detoxification and cell nourishing process.
Stand-up Paddling
The tranquil and scenic Hilo Bay makes it the perfect place for stand-up paddling. Stand-up paddling offers a complete body workout that activates the core as these muscles have to be engaged to stabilize oneself on the board. The natural unstable nature of water results in the continuous engagement of the core and abdominal muscles while on the board.
Other than core muscles, paddle boarding is excellent in developing specific muscle groups in the shoulder, upper back and chest region. It is important to switch the paddling side from time to time to avoid muscle asymmetries from developing.
Quads and calves are engaged as well and you may feel it in these muscles after spending half hour on a stand-up paddle board.
Stand-up boarding is also relaxing and uplifting as you spend time in nature and enjoying the views.
The calm Hilo Bay water is a great for trying stand-up paddle boarding
Surfing
We are surrounded by ocean access both at Aloha Wellness Inn and Kapoho Sanctuary. You can watch the waves or get in the surf at several great surfing beaches on the Eastern side of Hawaii. You can access these places by bicycle, or rent a moped from us. Or, if you are staying at the Aloha Wellness Inn your car rental can get you to surfing in a few minutes.
We offer physical reconditioning programs individually tailored in order to achieve your fitness goals. Combine working out, bicycling, jogging and surfing all by the ocean in a peaceful and natural environment.
The switch to a healthy lifestyle may be restored quickly with your passion for surfing. You will feel better and better every day and that will be the best motivation for those of you who may be following our addiction program to stay clean and sober and never want to return to the downward spiral path you were on. Instead beauty, sunshine and waves will be enough pleasure to make you happy.
Surfing spots near Kapoho Sanctuary and Aloha Wellness Inn:
Honoli'i Beach Park (2.6 miles) six minutes driving from Aloha Wellness Inn in Hilo
Kolekole Beach Park (12.3 miles) 18 minutes driving from Aloha Wellness Inn in Hilo
Pohoiki Beach (4.7 miles) 10 minutes from Kapoho Sanctuary
Pohoiki Beach provides a challenging surf and workout
Swimming
There are many opportunities for lap swimming in the ocean both at Hilo Bay, Hilo beaches and Kapoho Bay.
Weight Training
We have limited gym equipment available for those individuals who prefer to focus on building muscle through weight training. Combine strength training with several other exercise methods and work your way to your fitness goals very quickly. A stronger, leaner, fitter and more energetic you. Weight training increases physical work capacity, improves bone density, increases the strength of connective tissue, muscles and tendons and improves your quality of life by gaining body confidence.