What is Pilates?
Pilates is a series of low-impact flexibility and muscular-endurance exercises. It incorporates the use of special apparatus and equipment into movement routines designed to enhance flexibility, strength, and coordination.
This method of exercise was designed by, Joseph Pilates (1880 – 1967) when he devoted his early adulthood to conquering the physical imperfection he acquired as a child from asthma, rickets, and rheumatic fever. During World War I Pilates designed a specialized exercise apparatus and exercise routine that led to his becoming an accomplished skier, diver, gymnast, and boxer.
In 1926 he brought his method of body conditioning to New Your City and it became popular among dancers and performers. The dance profession continued to incorporate the Pilates training method throughout the 20th century.
Pilates improves –
flexibility
transversus abdominus activation
lumbar-pelvic stability
muscular activity
In addition Pilates can be used as a therapeutic intervention in treatment of lower back pain or other injury rehabilitation.
Stott Pilates
Stott Pilates is a modern version of the original exercise method developed by Joseph Pilates. It was developed by Moira and Lindsay Merrithew in the 1980s. Moira, a career dancer, received her Pilates training in New York City from Romana Kryzanowska, a protégé of Joseph Pilates. Following this training Moira returned to Toronto and began work with Lindsay to develop the Stott Pilates method. For twenty years they worked with physical therapists, sports medicine and fitness professional to refine the method.
The major difference between Stott Pilates and Joseph Pilates's original method is that Stott Pilates focuses on maintaining the natural curvature of the spine, while Joseph Pilates's method uses a straight spine.
Stott Pilates exercises are designed to restore the natural curves of the spine and rebalance the muscles around the joints. This involves placing more emphasis on pelvic and scapular stabilization, and integration of all the parts of the body into one. As well, preparatory exercises and modifications allow the technique to be appropriate for many different body types and abilities, making it applicable to sport-specific training and everyday life.
Biomechanical principles of Stott Pilates
Breathing
Pelvic placement
Rib cage placement
Scapular movement
Head & cervical spine placement
Stott Reformer Pilates
Stott Reformer Pilates sessions are offered by Stott Pilates certified trainer, Daina Fawn, within power walking, walking or bike ride distance from Kapoho Sanctuary.
Power walk, bike or run to your appointment to enhance your workout.
Certified Stott Pilates Instructor - Daina Fawn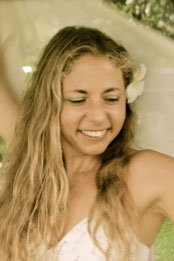 Personal Trainer, Certified Stott Pilates Instructor, TRX Suspension Trainer
Daina Fawn is the artistic director of Charisma Dance Theater, owner of Transcendence LLC – Home of East Pilates Hawaii, a Certified Stott Pilates instructor, TRX trainer, Acro yoga Montreal teacher, Thai yoga massage practitioner, RYT (Registered Yoga Teacher), Zumba & SOMA fitness instructor. Daina has trained with, Arlene Bjork, master yoga trainer; Pilobolus dancer Kent Lindemer; Richard Rossiter, master Pilates trainer; Cleo Parker, Gabrielle Roth and the list goes on. She has been a passionate scholar of dance, Pilates, yoga and the healing arts in universities all over the USA. Daina danced and taught dance professionally for Charisma Dance and the Latin Ballet of Virginia. She has 11 years of experience teaching Stott Pilates and 15-year teaching dance. She fell in love with dance and movement as a spiritual practice 22 years ago and it continues to be the thing that feeds her soul. Her Pilates studio is a scenic stroll away from the retreat center and an extremely fun way to get the body in shape! You can visit Daina online at: http://eastpilateshawaii.vpweb.com