Testimonial: Reconnecting with Self, Heavy Metal Detox
Hi my name is Carol
My daughter was struggling with health and personal issues and wanted to find a place where she could address them without more medications, a place that would take a heathy approach. She went online and HawaiiNaturopathic  Retreat kept coming up when she would put in her criteria. She had recently married and at some point wanted to start a family. She came here for 2 1/2 months and came home truly a new and improved woman. She now has a beautiful 15 mo old baby. She still and always will use the tools they gave her to live a healthier life.
I had some losses in my life, first my husband  than my mother. I plodded thru life trying to do the next right thing. Running from one place to another trying to fill the void, till one day I said I need to stop running and get reconnected. I realized that so many of my roles I had were no longer and I needed to figure out what was my purpose.
My mind,body, heart and surroundings we're in disconnect. I was speaking with my daughter and she said Mom you should call Dr Baylac. I put it off, I'm very good at that, and said I don't need that,'I just need to get on with it. Well it wasn't happening and I finally called. I did the blood work and urine testing and found I had off the chart lead and mercury levels so I had theses issues addressed as well as doing their wellness program.
Today is my last day of a three week tour. This may sound like a script the retreat puts out but honestly I feel like a different person. I fell so much more connected to my self and my surroundings. I journaled and had therapy sessions with some of the most amazing people and discovered so many issues I never dealt with. I went biking, swam with sea turtles in warm ponds, had the most amazing Thai massages, and an added bonus, I lost 8 lbs.
I recommend Hawaii Naturopathic Retreat  to anyone who wants to approach their problems or health issues in a holistic, spiritual, way of healing and discovering. There is no magic pill. The professionals here are some of the best I have met. It is a place where you can share your stories and you are not judged and you are safe.
The raw food and gerson chefs are unbelievable. How many dishes can one make that are raw. Well I'm here to tell you there are countless and they are really good.  This place saved my daughters life and I'm pretty sure it has put mine back on track.  Go for it, you are worth it!
Carol
Age 64
December 2014
Testimonial: Multiple Personalities
Until this week, never have I heard of treating any given multiples with a spherical holistic health plan. Within my layman research, that I admit needs updating, I was not aware that a total 10-day health program could provide a major life-changing breakthrough in multiplicity. This has been the most important benefit I have gained from this program. This breakthrough has catapulted me into a quantum leap toward helping others.
Zinia
Age 64
June 2014
Testimonial: Arthritis – Lower Back Spinal Stenosis
I've been suffering for 14 years with chronic pain from low back surgery and had been partially successful in treating it myself. Then, arthritis showed up 8 months ago and got progressively worse every day. I came into the retreat in crippling pain.
After 10 days of juice fasting and various other treatments under Dr.Baylac's care, my arthritis is turning around. That's a BIG DEAL.
When the spinal stenosis started chewing on me, I realized I had to do something. I came in with a cane, hunched over & could barely walk. I'm leaving walking wherever I want. Being crippled was not a good option for me and I'm relieved to know my body has another go-round! My joints feel much less painful and much more comfortable. Having everyone with different healing abilities show up daily, as needed, made my juicing/fasting process un-believably beneficial in such a SHORT period of time – the colonics, vitamins, IVs, castor oil packs, and clay packs all helped. Staying at the retreat and being able to rest when needed was also very beneficial.
My sincere thanks to everybody that's helped with this process, including the emotional support and counseling that really helped through this time.
Mike,
Age 59
June 2014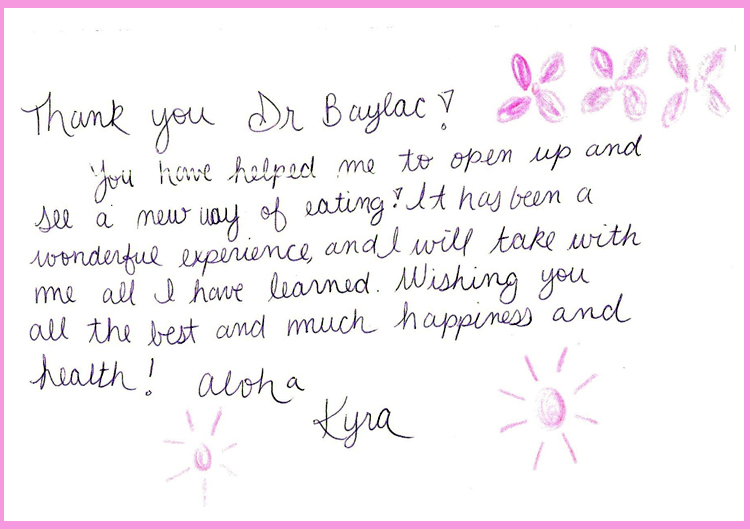 Testimonial: Fecal Microbial Transplant (FMT)
Aloha Dr. Baylac,
May this New Year bring you the blessings of health and joy.
I feel it is important for me to inform you of my current condition. The following is a brief summary of my experiences since I last saw you.
I was diagnosed in July 2013 with "Crohn's/Colitis" by specialist Dr. Ah***. After performing a colonoscopy, Dr. Ah*** told me this was his best guess. The current standard treatment for Crohn's/Colitis is RX drugs such as Prednisone. In spite of his strong recommendation, I refused to take it.
I tried several different things to cure my illness. It included our work together as well as special diets, supplements, Sodium Butyrate enemas, fasting for short periods, hypnotherapy, meditation, etc. When nothing I chose to do worked, I was forced to take the bull by the horns. To take control of my own health and try to dig deep to figure out how to make myself well. I did hours upon hours of research on-line regarding my diagnosis. Eventually I came to the conclusion that I had been misdiagnosed. I diagnosed myself with suffering from "Microscopic Colitis". This is somewhat less serious than Crohn's/Colitis disease. The symptoms of Microscopic Colitis seemed to closely match mine . When I read that Microscopic Colitis can be caused by over use of Anti-Inflammatory medications, that caught my attention.
You may recall the procedure I had done on my ear in May of 2012 by Specialist Dr. B**** in Honolulu. My ear became inflamed. Dr. B**** recommended taking 4 Advil every six hours until the inflammation went away. I took 96 Advil in 4 days. Again I was misdiagnosed as it was not an infection but rather a condition. Dr. B**** determined this himself. In the long run, this wrecked my gut causing damage to the lining of my colon.
My research lead me to learn about Fecal Microbial Transplant or FMT. This procedure is not routine in the USA nor is it allowed by the AMA. Currently, in the USA, the AMA will only allow this procedure to be done on patients with C. Diff., via colonoscopy.
I had become desperately ill. I lost nearly 20% of my body weight, dropping to just 94 lbs at the worst point. It required all my courage to decide to try something so alternative and far from mainstream medicine. Through my research and experiences, I learned how to perform this procedure at home. I found a very healthy and willing donor. I performed upon myself a total of 17 FMT's over a 33 day period. This was the cure! I began gaining my weight back after the first FMT. It came back 2lbs by 2lbs. Currently, I am nearly my normal weight, having gained back 22 lbs.
There are many simple details to consider while performing this procedure. I was able to figure it out. The main procedure was a retention enema. I also used two essential oils. These oils are therapeutic grade essential oils. I used Helichrysum and Digestzen oil topically. I also drank organic psyllium husks twice a day.
This procedure is amazing to me. I am comforted as I write this letter and see my truth manifest. My effort, along with the loving help of my donor, cost me nearly nothing. In my opinion, this procedure appears to be a cure. A lifetime of ingesting Prednisone, as Dr. Ah*** recommended, is not a viable solution. Should you wish to know more about my experience I would be very happy to discuss it with you. It is important to share this so other people, who are suffering just like I was and even worse, can find relief.
In health care today, knowledge is power.
Wishing you many blessings for the year ahead.
Aloha,
Jenny (pseudonym)
January 2014
TESTIMONIAL: Diabetes Type II, GERD, Chronic Headaches, Weight Loss
I was a typical diabetic type II on an American diabetic diet. I've had diabetes for three years and have not been able to control it with pills or insulin. I thought I was eating healthy before I came to the retreat, I followed the American Diabetes Association recommended diet: veggies, meats, little fruit, whole wheat type carbs, etc. I still struggled to keep my sugar normal. On a daily basis I was taking 28 units of basil insulin, and 60 units of insulin (that's about 20 units per meal). After eating raw food at the retreat for 3 days, I was down to 25 units of basil insulin and 10 units of insulin. My sugar went progressively down, and after a total of 16 days on the raw diet I am down to 18 units of basil insulin and 10 units of insulin per day. So, in 16 days, I went from taking 20 units of insulin per meal to 6!
The food was surprisingly amazing, I thought I was going to be eating twigs but I had some of the most creative dishes made from raw food! I wasn't hungry between meals, didn't snack, and was able to eat more fruit than on my "diabetic" diet. Also, I have not had one headache since I've been at the retreat, and I used to have headaches on a daily basis. I also have GERD (acid reflux) and have not had one single episode since I've been at the retreat.
I would recommend to anyone, who has ANY chronic condition or ANY health condition to try this retreat; give yourself two weeks. I was at the retreat as a companion and therefore didn't do the other therapies (like coffee enemas, etc) – but I will when I get home! I wasn't intending to get all these benefits. I also lost weight: 16 pounds in 16 days… and I didn't even exercise!!!
The retreat is its own little paradise, the most beautiful place, and the staff is so accommodating and friendly. I want to come back!
~Amanda G
Ohio
35 years old
December 2013
TESTIMONIAL: Reconnecting with self – finding purpose
I came to Hawaii Naturopathic Retreat Center with the intention to focus on regaining my health and energy, but I have gained so much more than that. Hawaii Naturopathic Retreat Center is truly a magical place. I have learned so much about myself here. From being healthy and happy to balanced and free. With every ah-ha moment I experienced during my stay I could feel my energy and happiness growing stronger and stronger. I had the opportunity to get to know each person working at the retreat on a one on one basis. Although different in their roles, they are all beautiful people inside and out. All involved in doing amazing things to help others, including myself, find their health and their path in life. At the retreat I not only learned about the importance of nutrition and taking care of my body but I also learnt a lot about the real me that was hiding behind my ailments. I feel part of an outstanding group of people whom I now consider to be my Hawaiian Family. Always greeting you with open arms, never judging and wanting to spread positive, healthy and happy energy to everyone they meet. I will always have a part of the Hawaii Naturopathic Retreat Center family with me everywhere I go. I am eternally grateful for being part of this life changing retreat.
Aloha and Mahalo,
xoxo
Anna
16 April 2013
TESTIMONIAL: Detoxification, Raw Food Diet, Parasite Cleanse
The reason I participated in this venture was initially to tag along with someone else. When I arrived and was asked why I was there, I shared that I had had health issues in the past. These issues were twofold; one from many years prior and only lately realizing that it was probably parasites, and the other more recently being the result of a drug that I was prompted to take for prevention of another health issue. That drug that did not agree with me at all and caused more health issues until I stopped taking it and did a cleanse, which made me feel much better.
The protocol I was on at the retreat involved detoxification and a parasite cleanse, the result of which I lost a consistent 2 pounds a week and am now over 20 pounds lighter than when I arrived, losing some of the weight that was gained in the parasite years. I eat the same amount of food or more than I ever did and look and feel better and lighter than I have for years. With the raw food idea, I learned to eat totally different and initially spent a lot of time in the kitchen. I had a lot of compliments from friends and family telling me how good my eyes and skin looked and how slim I am, and wanting to know how they can become the same. This is a totally different way of preparing food and I love it and love eating this way.
I would definitely recommend this program to anyone, and two of my neighbors may attend soon.
My physical health is in top form today except for my stomach lately, due to stress as this change has not been embraced by all of my family. Hopefully, this negative attitude will pass and I can get back to feeling at the top of my game.
Love to all who helped me reach this road in my life.
C Gaucher
July 2012
TESTIMONIAL: Rest, clarity, deep reflection & raw foods and juices
Dear Dr. B.,
What can I say? Thank you for an amazing stay. It sounds so simple, but I think I finally see that my only job is to uncover and pursue my path! Wow! Can't believe it took me so long to figure out. But, I am grateful to you for your guidance and support. I knew I needed to leave my job but without the strength and clarity you provided I was not able. Now, it is clear. I am excited.
I was a workaholic. Having run my mind and body into complete exhaustion, I came to Dr. Baylac's retreat looking for some rest and clarity to make a big career decision and life change. I knew that I had to leave my job, but I was not at peace with letting go. With Dr. Baylac's guidance and support, during my stay I was able to work through this decision to a point that I could return and face this change from a point of strength.
Having gained almost 15lbs over the past six months, I was also looking to gain healthier eating and exercise habits. Through a combination of raw foods and juice fast over ten days, I was able to lose the emotional weight I had gained and begin to lay the groundwork for new and healthier habits.
The retreat was an excellent gift to myself. It was a unique opportunity to dive deep into personal issues and challenges that get easily overlooked by the distractions of our busy, stressful everyday modern lives. The time spent in deep reflection was invaluable.
Last but not least, the staff and fellow 'retreatees' I met during my stay were wonderful. Their support made my experience all the richer.
Lots of love —– happy trails!
K.N.
August, 2007
TESTIMONIAL: Weight loss, emotional healing & water therapy (Watsu)
Dear Dr. Baylac,
Thank you so much for your whole-soul approach in helping me physically and emotionally!! What a beautiful expression of love for life and truth you are! Thank you for honesty and your patience with me, I know my path forward now to reclaim my health will be slow, but you've given me good guidelines to follow. When you told me my first day here, that you represented my commitment to myself, I felt relief. At last! A doctor whose interest and determination lies not in just making money, but in really taking a patient's health seriously enough to ponder in depth over the course of action to take, to bring about a healthy body & mind.
Water therapy! …wonderful experience. I felt like a little orbiting sphere at the mercy of nature, but trusting that good would happen! I will work on maintaining the unresisting spirit I felt in my spiritual path and stop focusing on the problems.
Anyway – thanks for everything!
Meg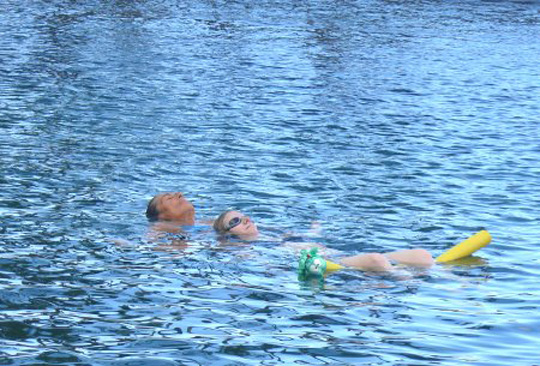 P.S. The following is how I felt about the water therapy treatment. It is said that touch has an honesty beyond words. I found this to be so true as I experienced the Water Therapy Treatment at the Hawaiian Naturopathic Retreat Center!!
The experience gave me memories I will never forget! Gently swirling in a volcanically warmed pool, framed by softly swaying palm trees, and cooled by the occasional light wave from the ocean, I felt: unresisting, submissive, free of judgment…(no thoughts of fat, thin, good, bad), new, in awe, sense of wonder, innocent, silent communication, raised up…exulted, like a leaf in a gentle current, fragile and at the mercy of nature – yet trusting that good will happen, buoyant, expectant, exciting, surprised, playful, and love.
The Water Therapy Treatment touched me on a physical, emotional and spiritual level!! Thank you Dr. Baylac!! That was a truly wonderful and unforgettable moment!!
Meg
August, 2007