Have you ever wanted to do breast imaging and screening without the radiation and discomfort that goes along with mammography? The good news is that Lisa Kalison will be visiting the eastern side of the Big Island again next week with her mobile Thermography service.
Discover the Gifts of Thermal Imaging –
No radiation
No breast compression
No pain
No physical contact
Earliest metabolic indicators 8-10 years before mammograms
Safe for implants, mastectomies, pregnancies, any age
FDA registered since 1982
Current research shows that they key to surviving breast cancer is early detection. Cure rates up in the ninety percentages are possible with early detection. Thermographs can detect the heat produced by increased blood vessel circulation and metabolic changes associated with a tumor's genesis and growth. Angiogenesis (the formation of new blood vessels) is essential to support the growth of a tumor. Areas of inflammation and increased blood vessel circulation can be detected by Digital Infrared Imaging bringing awareness to breast changes before tumors have developed.
Where: Aloha Wellness Inn at 239 Haili Street, Hilo HI 96720
When: Thursday, June 20th, 2013
Call Lisa Kalison 760-436-8811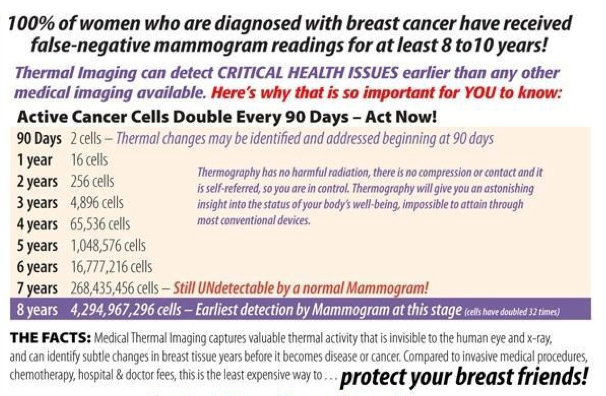 Read Article from Natural Awakenings Magazine, May 2010 – BREAST THERMOGRAPHY – Lisa Kalison Champions This Preventive Tool
https://www.hawaiinaturopathicretreat.com/wp-content/uploads/2014/06/Discovery-Screening.jpg
451
825
Nicolette Marais
http://www.hawaiinaturopathicretreat.com/wp-content/uploads/2013/04/logo11.png
Nicolette Marais
2013-06-14 17:58:23
2014-10-07 17:43:27
Join Lisa Kalison for a Thermography Breast Screening