Balneotherapy or spa therapy is defined as the use of baths (hot or cold springs or natural occurring waters) and other natural remedies for healing. At Hawaii Naturopathic Retreat we incorporate a variety of therapeutic bath treatments in our treatment plans.
Hot water is chosen for its relaxing properties. It also stimulates the immune system. Hyperthermia combined with a bath treatment is used when indicated. Tepid water can also be used for stress reduction, and may be particularly relaxing in hot weather. Adding hydrogen peroxide, herbs, mineral salts and essential oils to water can enhance its therapeutic value.
Hydrogen peroxide bath treatments are a form of oxidative or oxygen therapy. In oxygen therapy the goal is to increase serum oxygen levels. High oxygen levels are beneficial for oxidizing (breaking down) toxins. Oxygen hydrotherapy can help the natural processes of the body in numerous ways. Oxygen energizes our cells and can reverse degeneration, it stimulates the immune system and promotes healing. In cancer treatment the oxygen delivered to the cells by hydrogen peroxide baths are unwanted by cancer cells as cancer cells thrive in an anaerobic environment. Read about hydrogen peroxide baths in cancer treatment in our cancer program pages.
Hydrogen peroxide (H2O2) is a highly oxidizing agent. In hydrogen peroxide baths oxygen is released when hydrogen peroxide (H2O2) becomes water (H2O) and the oxygen released is absorbed by the skin. The extra oxygen in the blood serum can be used to support the body in healing and to break down (oxidize) toxins. In detoxification, a hydrogen peroxide bath can help to cleanse and purify the skin. The biggest elimination organ of the body which will make the skin more effective in elimination of toxins.
Hydrogen peroxide baths are indicated for detoxification, inflammatory, autoimmune and degenerative diseases and cancers. Small amounts of hydrogen peroxide can activate several genes that are responsible for clearing tissue debris and improves venous and lymphatic circulation.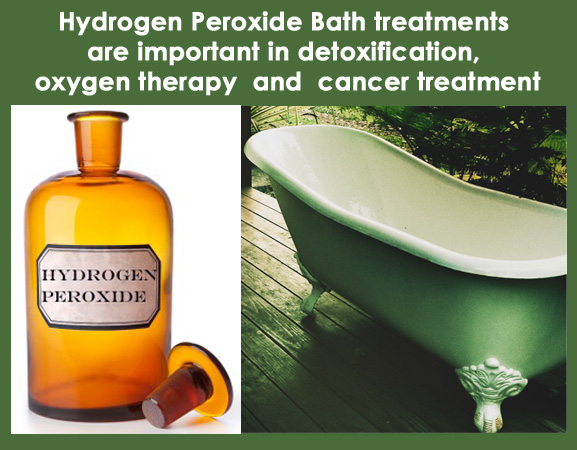 Bog or peat moss (sphagnum) has been used in folk medicine since the 11th century. It is only fairly recently that medical science began to recognize peat moss for its ability to kill bacteria. In Europe sphagnum was used since the 1180s as a bandage material for wounds and abscesses. Medical peat is NOT peat moss that is used in gardening. Medicinal peat is obtained from bogs on low- or highland moors and is unique in its composition containing many chemical constituents that can interact with organic and inorganic compounds in our skin. In bath treatments, peat water possesses astringent and antiseptic properties, and is a very useful application in eczema, psoriasis, pruritus, hemorrhoids, chilblains, scabies, acne and other forms of skin diseases. It is also very useful in calming skin irritation acquired from insect bites.
Peat moss combined with hyperthermia can be a therapeutic and beneficial treatment for several conditions including acne, arthritis pain, back pain, benign prostatic hypertrophy, bursitis, carps tunnel syndrome, fibromyalgia, flu, fractures, acute gouty arthritis (two), chronic gout, gynecological disorders, headaches, hematomas, hives, insomnia, lumbalgia, metabolic disorders, muscle tension, neurological disorders, obesity, orthopedic disorders, osteoarthritis, postoperative rehabilitation, premenstrual syndrome, prostatitis, psoriasis, rashes, rheumatoid arthritis, sciatica, skin care, sprains, strains, stress relief, trauma and viral infections.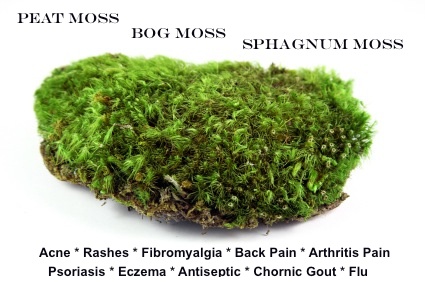 Epsom salt is magnesium sulfate (MgSO4) and is therefore made up of magnesium and sulfates (and some oxygen). It derives its name Epsom salt from a bitter saline spring in Epsom in Surrey, England. During an Epsom salt bath, magnesium and sulfates are easily absorbed through the skin and can restore internal levels of magnesium and sulfates in the body. The therapeutic qualities of an Epsom salt bath are derived from the magnesium and sulfates absorbed during the bath.
Therapeutic Qualities of Epsom Salt Baths:
detoxification by flushing toxins and heavy metals from the cells
drawing toxins and impurities to the surface of the skin
relieves stress and promotes relaxation
relaxes the muscles
reduces pain and inflammation
softens and moisturizes the skin
Magnesium is a natural stress reliever for the body. An individual who is under continuous stress and in an adrenal alert state can easily exhaust their magnesium reserves. Magnesium is necessary to bind adequate amounts of serotonin in the brain and serotonin enhances moods, relaxation and creates a feeling of well-being. Epsom salt baths are useful in the treatment of anxiety related disorders, adrenal fatigue, stress related problems, recovery from trauma and depression.
Magnesium absorbed during a bath treatment can reduce pain and inflammation. It is a useful treatment for arthritis and sports injuries. It relaxes sore or strained muscles and reduces cramps.
Magnesium sulfates draw toxins from the body and impurities from the skin making it a powerful conjunctive treatment in detoxification programs. In addition it naturally exfoliates, softens and moisturizes the skin.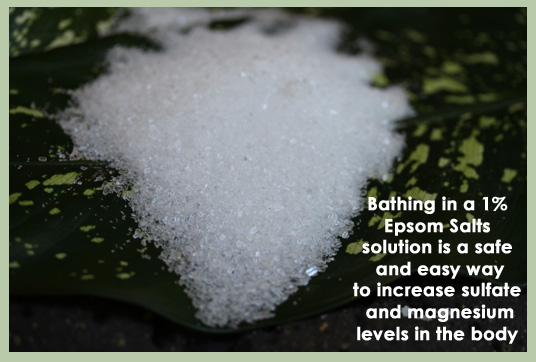 Alkaline Concentrated Baths (AlkaBath) – Bath Salts
Waste is acidic and during a detox, we recommend warm alkaline baths. We use a product from Germany called AlkaBath. AlkaBath® stimulates the skin's natural oils and at the same time cleanses the skin, making it perfectly supple.
Body care has been alkaline since the time of the Egyptians, the ancient Greeks and the Romans. These civilizations used sodium bicarbonate, milk, or alkaline soaps for body care. Grandma's curd cheese compresses also belong to this tradition of alkaline body care. In former times, all care of the elderly was carried out with soft soap with pH values of greater than 9.0.
AlkaBath® concentrated bath salts, with a pH value of 8.0-8.5 (depending on initial value and hardness of the bath water), stands firmly in this venerable tradition.
AlkaBath® is extremely well suited for both full baths and hip baths. Special applications include salt socks, gloves, shirts and compresses. AlkaBath® can also be used for massage, dental care and alkaline rinses.
Why not try out the soothing effects of long baths in alkaline bathwater – for your feet or your whole body. Experience the feeling of well being that caring for your skin, hands or feet with salt gloves, socks, or shirts can bring. AlkaBath® is also ideally suited for care of the genital and rectal regions in conjunction with a bidet.
We recommend that the bath water be at a temperature of approximately 36-38°C and that you bathe for at least 30 minutes, but preferably for 45-60 minutes. Leaching baths lasting for hours were traditional in ancient Japan and Mexico, and are still practiced in those cultures today, for the achievement of physical and spiritual well-being. Rubbing down the body every ten minutes during the bath with a granular washcloth or stiff bathbrush has been shown to promote circulation and stimulate the organism as a whole.
Warm, alkaline baths do both body and soul a world of good during the cold winter months. By the same token, refreshing full baths or foot baths have been shown to have beneficial effects during the warm months as well.
Lavender Essential Oil Therapeutic Baths
The beautiful and fragrant lavender herb bush is a very powerful remedy in the plant world, offering both physical and emotional relief for problems such as burns, migraines, insomnia, insect bites, skin problems, infections, stress and nervous tensions. Lavender derives its therapeutic healing properties from its complex chemical makeup.
Lavender is particularly rich in aromatic molecules called esters, which relaxes the muscles, promotes tranquility and peacefulness (it pacifies), while other molecules give it its antiviral, bacterial and anti-inflammatory properties.
Lavender Oil Properties:
antidepressant
anti-anxiety (soothes and calms the nerves)
relieves pain
promotes wound healing
aids in the clearance of mucus from the airways, lungs, bronchi, and trachea
antiseptic
At Hawaii Naturopathic Retreat we use lavender bath treatments especially for anxiety related disorders, depression, insomnia, to reduce stress and to promote psychological well-being.
A study published in Complementary Therapies in Medicine that investigated the effects of lavender (lavedula angustifolium) baths on psychological well-being found that negative responses to the future were reduced in women who received the blind allocated samples of 80% grapeseed oil and 20% lavender oil. The women used the oil baths over a 14 day period. Positive mood changes that occurred in the women who received the grapeseed/lavender (80/20) oil were significant for a reduction in anger-frustration.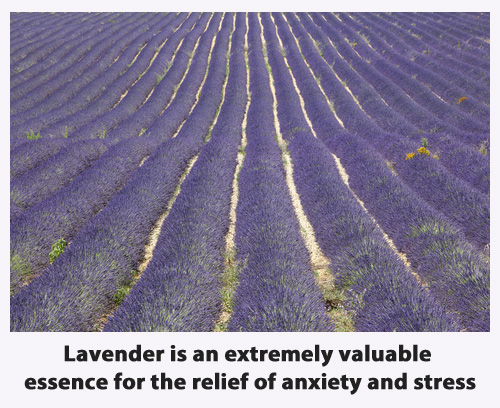 Hyperthermia and hydrotherapy treatments are available to outpatients and in-house retreat patients.
contact information
Hawaii Naturopathic Retreat
Phone: 808-933-4400
Aloha Wellness Center
239 Haili St., Hilo HI 96720
Kapoho Sanctuary
Pahoa, HI 96778